Brooke Bowen
Specializes in complex civil litigation, including business litigation, serious personal injury matters, and product liability cases
Admitted to practice in Georgia and New York
Named UGA 40 Under 40 in 2018
Graduated Cum Laude from the University of Georgia School of Law
Graduated Magna Cum Laude from the University of Georgia with a Bachelor of Arts in Journalism, Public Relations
Biography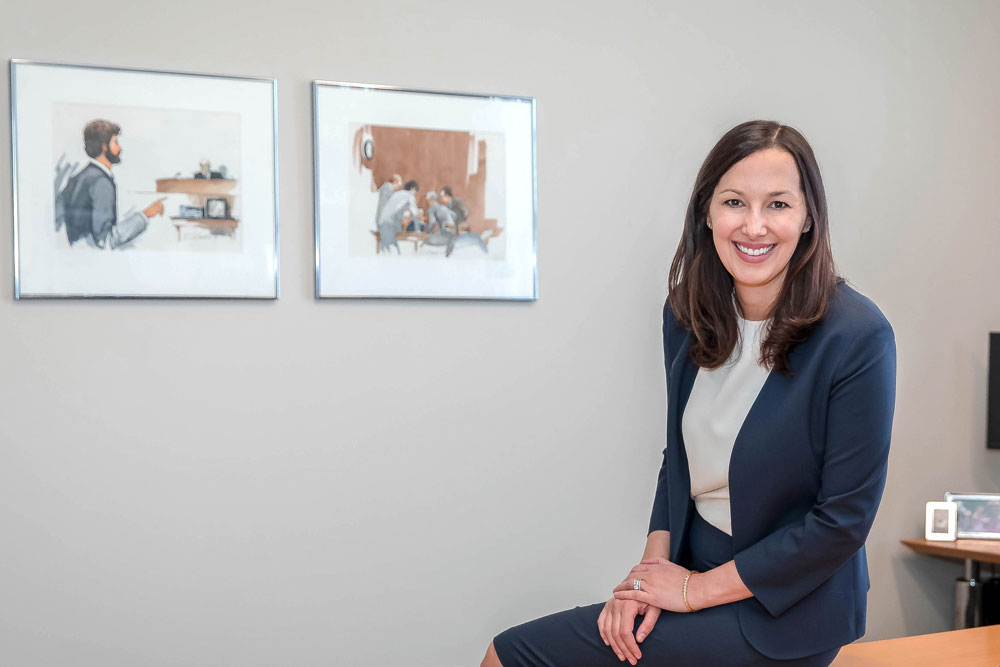 Brooke Bowen specializes in high-stakes civil litigation, including catastrophic injury claims, large products liability cases, and complex commercial litigation. Brooke brings a unique perspective to her plaintiffs' practice having spent the first decade of her career defending large, international companies and subsequently acting as in-house counsel for a major government organization. Brooke combines the skills that she gained defending these entities with her passion of helping others in order to obtain the best results for her clients – individuals and businesses who have been seriously harmed by the wrongful acts of others.
Brooke was raised in the Southwest Georgia town of Sylvester by a family who instilled in her the values of hard work, honesty, and helping others who have fallen on hard times. After earning her undergraduate and law degrees from the University of Georgia, Brooke moved to New York City to start her legal career. Brooke spent the first six years of her career defending major national and international companies in federal and state courts in New York and across the United States. During that time, Brooke individually conducted and defended over 100 depositions; obtained favorable results for her clients through settlements and, when necessary, jury trials; and defended a case up to the Supreme Court of the United States.
While in New York City, Brooke also built a practice defending and acting as outside general counsel to multiple well-known higher education institutions. Brooke led external investigations of high-level administrators who were accused of violating Title IX and other non-discrimination and anti-harassment laws. Brooke defended her higher education clients before the EEOC and the New York State Division of Human Rights and in various federal and state courts throughout New York.
In 2016, Brooke accepted the position of Legal Counsel for the Board of Regents of the University System of Georgia, the governing body over the 26 public colleges and universities in Georgia, including the University of Georgia and Georgia Institute of Technology. Brooke continued her work in the non-discrimination and anti-harassment arena while at the Board of Regents, ensuring that every institution complied with all applicable non-discrimination and anti-harassment laws. She led the University System's First Amendment efforts, drafting the first Board of Regents Policy on Freedom of Expression and advising the Board of Regents and college and university presidents on all free expression matters. Brooke also led litigation strategy with the Georgia Attorney General's Office on matters of systemwide significance for the University System of Georgia and routinely testified before the Georgia General Assembly on legal matters and proposed legislation that impacted the University System.
In addition to her professional involvement, Brooke has a heart for helping others. She was an inaugural member of the Women of UGA Leadership Council, which provides mentorship, programming, and networking opportunities for UGA alumnae and endows multiple needs-based scholarships for UGA students. Brooke and her husband are also sustaining Skyland Trailblazers for Skyland Trail, a nonprofit mental health treatment organization in Atlanta. In recognition of her professional and philanthropic contributions, Brooke was named to UGA's 40 Under 40 Class of 2018.
Brooke and her husband Josh live in Atlanta with their two children. In their free time, they enjoy exploring different intown Atlanta neighborhoods, visiting family in South Georgia and North Carolina, running around playgrounds and the Beltline with their two children, traveling to new locations, and cheering for the Georgia Bulldogs and Atlanta Braves.
Contact Brooke Bowen
4200 Northside Parkway, NW Building One, Suite 300
Atlanta, GA 30327
Phone: 404-809-2594
Fax: (404) 467-1166