Scott Farrow
Martindale-Hubbell Peer Reviews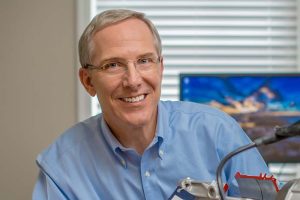 Scott Farrow currently serves as Of Counsel Attorney for Conley Griggs Partin LLP. He specializes in product liability, premises liability, truck/car accidents, fire- related injuries, and business disputes. He has handled over 50 cases involving electrical injuries, including electrocutions and severe burns, and many cases involving serious brain injuries.
Scott spent over 30 years handling high stakes litigation at Troutman Sanders LLP, one of the largest law firms in the country, and became a senior partner and practice group leader. Over the years, Scott developed a hybrid practice – defending large companies in complex cases while also representing people who suffered catastrophic injuries. He realized the cases he found most fulfilling and emotionally rewarding were the ones where he represented everyday people whose lives had been forever altered by a tragic event. In 2018, he joined Conley Griggs Partin LLP to focus exclusively on representing people who were injured and businesses that experienced substantial losses.
The following are some of Scott's more significant cases on the plaintiff's side:
Sports Injury: Catastrophic traumatic brain injury of a seventh grade football player who received a jarring hit from a high school player during an illegal scrimmage.
Product Liability: Severe thermal and chemical burns case involving a defectively designed door on a dry cleaning machine that resulted in the door flying open while the machine was in operation, spewing hot chemicals on the owner.
Automobile Product Liability (Park-to-Reverse): Wrongful death case  involving the tragic loss of the owner of a Land Rover who had walked behind the car to open the garage door when the car suddenly self-shifted into reverse.
Airplane Product Liability: Severe thermal burns to a passenger when an ASA propeller fractured in mid-flight, resulting in a crash landing in Carrollton, Georgia.
Truck Accident: Severe back and shoulder injuries to a man who was rear-ended by a moving truck on I-75.
Garden Equipment Product Liability: Loss of leg to the operator of a negligently designed Sears rototiller.
Libel/Copyright Infringement: Two cases against the National Enquirer, one involving a false story and the other involving the publication of photographs without authorization.
On the defense side, Scott handled cases involving electrocutions (overhead lines, pad-mounted transformers, and commercial panel boxes), product liability cases, truck accidents, fire cases, and business disputes. His experience includes many of the most noteworthy decisions by the Georgia Supreme Court and Georgia Court of Appeals regarding high voltage accidents.  He also developed a unique expertise in easement disputes, including the reversal of a trial court decision in one of the largest class action easement disputes in Georgia history (MEAG v. Gold-Arrow Farms, Inc., 276 Ga. App. 862 (2005)).
Personal Injury
Product Liability
Premises Liability
Truck/Car Accidents
Fire-related Injuries and Damages
Business Disputes

University of Georgia Law School (J.D.,

 

cum laude, 1986).
Georgia Law Review, Editorial Board (1984-1985).
Auburn University (B.A.,

 

magna cum laude, 1982).

Best Brief Award (first year class).
Winner, Talmadge Moot Court Competition.
American Jurisprudence Award.

Achieved Martindale-Hubbell's highest rating ("AV Preeminent," 5 on a scale of 1-5) for legal ability and ethical standards, based upon confidential reviews by other lawyers.
Named to The Best Lawyers in America in Commercial Litigation (2009-2017).

Named to Georgia Trend magazine's Legal Elite in personal injury (2004-2013).
Selected as a Super Lawyer in Personal Injury Defense: Products by Law and Politics and Atlanta Magazine (2009-2010, 2012-2016).

Partner, Troutman Sanders LLP, 1995-2018.
Associate, Troutman Sanders LLP, 1986-1994.

Dunwoody United Methodist Church (former Administrative Board, Staff Parish Relations Committee, Sunday School President).
Atlanta Pet Rescue and Adoption, Board of Directors (2009-2016) (currently Best Friends, Atlanta).
Atlanta Flames Fastpitch, Inc. (Founder, President, Board Member and Coach, 2008-Present).
Murphey Candler Girls Softball Association (Board of Directors, 2006-2016).
Murphey Candler Little League Baseball (Coach and Board of Directors, 1998-2005).

Speaker, Taking and Defending Effective Depositions in Georgia, "The Who, When, and Where of Depositions" (2003, 2004, 2005, 2006, 2007).
Speaker, "Brief Writing," UGA School of Law (2006).
Program Co-Chair, ICLE Toxic Torts Seminar (2002, 2003, 2005, 2006).
Speaker, Civil Litigation for Younger Lawyers, "Direct and Cross Examination of Witnesses" (2002).
Speaker, Georgia Products Liability Section Annual Seminar, "Negotiating and Settling A Products Case: Defendant's Perspective" (1999).
Contact Scott Farrow
4200 Northside Parkway, NW Building One, Suite 300
Atlanta, GA 30327
Phone: (404) 809-2599
Fax: (404) 467-1166