Will Owens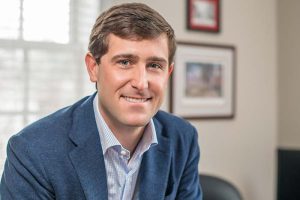 Will joined Conley Griggs Partin LLP as a Senior Associate Attorney in May 2016, and was named Partner in September 2018. His practice is focused in the areas of product liability, personal injury, and business litigation. Before joining Conley Griggs Partin, Will spent several years working for a large defense firm in Atlanta. There, he represented individual and corporate defendants in personal injury cases involving motor vehicle and trucking accidents and premises liability claims. During this time, Will also represented insurers in coverage disputes and gained firsthand knowledge of the defense strategies used by insurance companies.
A native of Memphis, Tennessee, Will graduated from Washington and Lee University in Lexington, Virginia in 2008 with a Bachelor of Arts in Politics. In 2011, Will received his Juris Doctor, cum laude, from the University of Georgia and was admitted to the Georgia Bar.
Since graduating from law school, Will has lived in the Virginia Highlands neighborhood in Atlanta. On the weekends, he enjoys playing golf, grilling out with friends, and watching old movies.

Contact Will Owens
4200 Northside Parkway, NW Building One, Suite 300
Atlanta, GA 30327
Phone: (404) 809-2592
Fax: (404) 467-1166