Will Owens
Selected to the Super Lawyers "Rising Stars" list in 2020
Specializes in catastrophic injury and wrongful death cases in areas of general and automobile products liability, serious motor vehicle and trucking wrecks, and premises liability
Started with Conley Griggs Partin in 2016 and named Partner in 2018
Graduated from the University of Georgia School of Law in 2011 (cum laude)
Graduated from Washington and Lee University with a Bachelor of Arts in Politics in 2008 (cum laude)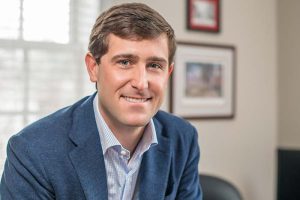 Will started with Conley Griggs Partin as a Senior Associate in May 2016 and was named Partner in September 2018. Before joining Conley Griggs Partin, Will worked for a large insurance defense firm in Atlanta, where he defended commercial clients in a wide variety of civil cases and gained firsthand knowledge of the defense strategies employed by insurance companies. After several years of defense work, Will realized he wanted to spend the rest of his career helping families whose loved ones were lost or severely injured due to corporate negligence and wrongdoing. Now, he exclusively represents plaintiffs throughout the State of Georgia in wrongful death and catastrophic personal injuries cases, including those involving burn and spinal cord injuries.
As an associate at Conley Griggs Partin, Will worked on the trial teams in Curtis v. United States of America, an aviation case in which a federal court awarded a verdict of $11,700,000 for the wrongful death of a passenger in a fatal airplane crash, and Scoggins v. Athens Regional Specialty Services et al, a medical malpractice case where the firm obtained a $6,000,000 verdict in DeKalb County. As the firm's first "promoted" partner, he handles complex cases in the areas of general and automobile products liability, serious motor vehicle and trucking wrecks, premises liability, and medical malpractice. In 2020, Will was selected by his peers to the Super Lawyers Rising Stars list, a distinction earned by only 2.5% of attorneys in the state.
A native of Memphis, Tennessee, Will graduated from Washington and Lee University in Lexington, Virginia with a Bachelor of Arts in Politics. In 2011, Will received his Juris Doctor, cum laude, from the University of Georgia and was admitted to the Georgia Bar. Will lives in the Collier Hills neighborhood in Atlanta with his wife Erika, and when he's not practicing law, enjoys playing golf, cooking, and traveling.
Contact Will Owens
4200 Northside Parkway, NW Building One, Suite 300
Atlanta, GA 30327
Phone: (404) 809-2592
Fax: (404) 467-1166